Bayardo Cortes, .DM.D.
10205 South Dixie Highway Suite 200
Pinecrest, FL 33056
(305) 279-4312
Find answers and other helpful dental topics in our digital library.
Posts for: April, 2015
By Tooth Fairy-Land
April 24, 2015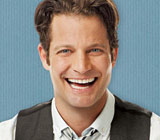 Perhaps you've seen Nate Berkus on The Oprah Winfrey Show or watched his television program, The Nate Berkus Show. You may even have read his best-selling book, Home Rules: Transform the Place You Live Into a Place You'll Love. Regardless of where or how you discovered Berkus, you will surely have noticed his dazzling smile.
Berkus recently opened up about the facts behind his trademark smile during an interview with Dear Doctor magazine. First off, his smile is totally natural, as he never wore braces or had any cosmetic work, including porcelain veneers. However, Berkus does give credit to his childhood dentist for the preventative healthcare he received as a young boy. "I'm grateful for having been given fluoride treatments and sealants as a child," he said. Nate also shared the important flossing advice he learned from his dentist that he still follows today: "Floss the ones you want to keep." Berkus went on to say that he feels, "healthy habits should start at a young age."
And we totally agree! For this reason we have put together the following list of facts and oral hygiene tips:
Over 50% of plaque accumulation occurs in the protected areas between teeth — a place that may be difficult or even impossible to reach with a toothbrush.
A thorough brushing may take up to two minutes at first, and it may feel awkward as you reach some places in your mouth.
Remember, more is NOT always better! Brushing or flossing too hard can be damaging to your teeth and gums. And never saw back and forth with your floss.
To learn more about oral hygiene, including brushing and flossing techniques, you can continue reading the Dear Doctor article "Oral Hygiene Behavior - Dental Health For Life." Or you can contact us today to schedule an appointment so that we can conduct a thorough examination, review your brushing and flossing techniques, and discuss any questions you have as well as treatment options. As needed, we will work with you to teach you the proper brushing and flossing techniques so that you feel confident before you leave our office. And to read the entire interview with Nate Berkus, please see the Dear Doctor article "Nate Berkus."
By Tooth Fairy-Land
April 09, 2015
If you asked a room full of parents about their opinions on thumb sucking and pacifiers, the odds are good that you would get a wide variety of opinions. The truth is that this habit is a perfectly normal behavior in babies and young children; however, it is something that parents and caregivers should monitor. This is why we want to share a few basic myths and facts to set the record straight.
So how early does thumb sucking start?
It is interesting to note that thumb sucking for some babies actually starts before birth. This fact is proven quite often when expectant mothers "see" their unborn child sucking fingers or a thumb during a routine mid to later term sonogram. Sucking for babies is absolutely normal; it provides them with a sense of security. It is also a way they test, make contact and learn about their world.
At what age should a parent be concerned if their child still sucks a pacifier, finger or a thumb?
Recent studies have shown that if a sucking habit continues after the age of two, there may be some long-term changes in the mouth that have can have a negative impact on jaw development and/or with the upper front teeth. (It can cause these upper front teeth to become "bucked" or protrude forward towards the lips.) The American Academy of Pediatric Dentistry recommends that parents and caregivers encourage children to cease this habit by about age three.
Do children ever stop this habit on their own?
Absolutely! If left alone, many children will naturally stop sucking their fingers or thumb between the ages of two and four. The main points to remember are that sucking habits are totally natural and should stop on their own. You should not make it a problem unnecessarily. If, however, your child is getting older and still seems dependant upon this habit, feel free to contact us today to schedule an appointment for your child or to discuss your specific questions about pacifiers and finger or thumb sucking. You can also learn more about this topic by continuing to read the Dear Doctor magazine article "Thumb Sucking in Children."