Bayardo Cortes, .DM.D.
10205 South Dixie Highway Suite 200
Pinecrest, FL 33056
(305) 279-4312
Find answers and other helpful dental topics in our digital library.
Posts for: October, 2017
By Tooth Fairy-Land
October 28, 2017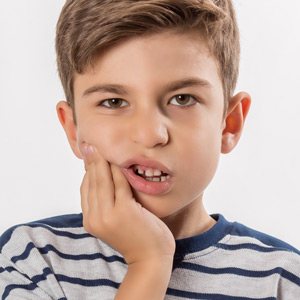 If your child has a toothache, there's good news — and not so good news. The good news is the pain rarely indicates an emergency. On the downside, though, it may definitely be something that needs our attention.
Here, then, are 4 things you should do as a parent when your child tells you their tooth hurts.
Try to find out exactly where the pain is and how long it has hurt. Ask your child which tooth or part of the mouth hurts. You should also find out, as best you can, when the pain started and if it's constant or intermittent. Anything you learn will be useful information if you bring them to the office for an examination. And, any tooth pain that keeps your child up at night or lasts more than a day should be examined.
Look for signs of recent injury. Your child may have suffered a blow to the mouth that has damaged the teeth and gums. Besides asking if they remember getting hurt in the mouth, be sure to look for chipped teeth, cracks or other signs of trauma. Even if there aren't any outward signs of injury, the tooth's interior pulp may have been damaged and should be checked out.
Look for signs of dental disease. Take a close look at the tooth your child's complaining about: do you see brown spots or obvious cavities? You should also look for swollen gums or sores on the inside of the mouth. If there's been no apparent injury, these could be signs of infection related to tooth decay.
Try to relieve pain symptoms. If you don't see anything unusual, there may be a piece of candy or other hard food debris between the teeth causing the pain — gently floss around the tooth to dislodge it. If the pain persists give appropriate doses of ibuprofen or acetaminophen (not aspirin). If there's swelling, you can also apply an icepack on the outside of the jaw. In any case, you should definitely schedule a visit with us for an examination.
If you would like more information on dental care for your child, please contact us or schedule an appointment for a consultation. You can also learn more about this topic by reading the Dear Doctor magazine article "A Child's Toothache."
By Tooth Fairy-Land
October 13, 2017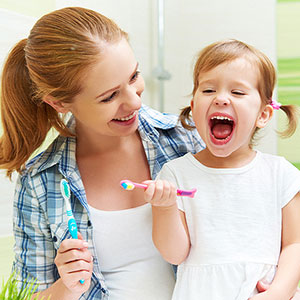 Like any parent you want your child to grow up healthy and strong. So be sure you don't neglect their dental care, a crucial part of overall health and well-being.
The most important part of this care is prevention — stopping dental disease and other problems before they do harm. Proactive prevention is the best way to keep their teeth and gum growth on the right track.
Prevention starts at home with a daily habit of brushing and later flossing. In the beginning, you'll have to brush for them, with just a smear of toothpaste on the toothbrush. As they get older, you can teach them to brush for themselves, graduating to a pea-sized dose of toothpaste.
It's also important to begin regular dental visits around their first birthday. Many of their primary (baby) teeth are coming in, so regular cleanings and checkups will help keep tooth decay in check. Early visits will also get them used to seeing the dentist and hopefully help stimulate a lifelong habit.
These visits have a number of purposes. First and foremost is to monitor dental development and early detection of any emerging problems, like a poor bite. Catching problems early could help reduce or even eliminate future treatment.
Some children are also at greater risk for tooth decay and could benefit from applications of topical fluoride, a mineral that strengthens tooth enamel, or a sealant to help protect the teeth. This is especially helpful in preserving primary (baby) teeth: early loss of a primary tooth could disrupt the permanent tooth's eruption and cause a poor bite.
Your child's dental visits could also benefit you as their caregiver. You receive regular feedback on how well your child's teeth and gums are developing, and the effectiveness of their oral hygiene. You also get answers to your questions about their oral health: the dentist's office is your best source for advice on teething, diet and other issues.
Together, you and your dentist can provide and maintain the best conditions for your child's dental development. The result will be the healthiest mouth they can have as they enter their adult years.
If you would like more information on preventive dentistry for your child, please contact us or schedule an appointment for a consultation.